I love pen and ink so I still do a good majority of my work with tradition tools like dip pen and brushes, but I also use a Wacom pen tablet (shown below) for layouts, lettering and finished production.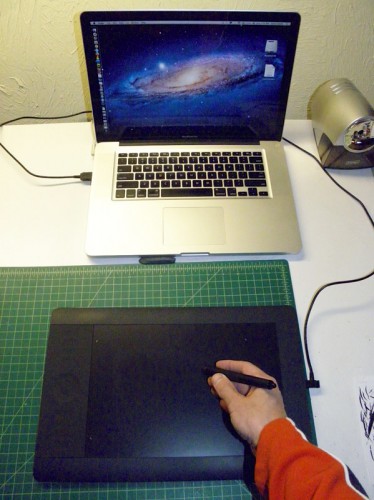 MacBookPro with Wacom Intuous Pro pen tablet.
---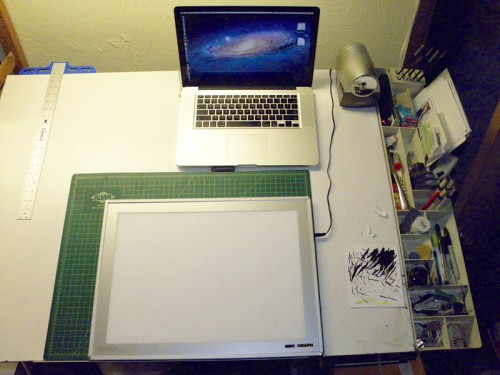 For transferring layouts to bristol, an Artograph Lightpad A940.
---
Epson Work Force 7820
Scans 11″ x 17″, plus it prints up to 13″ x 19″.
http://columbuscameragroup.com/2011/04/19/ Cost saving tip: I find you can get a deal on the older models just when the newer models are coming out. Also you can check with your store if you can get money back by returning your old model when you buy the new one.
---
DRAWING & INKING MATERIALS
From left to right…
Pencils:
3h for light sketching and blocking in shapes.
2b for tightening up drawing.
Pental Twist Erase with HB lead for a clean line.
Erasing/corrections:
Kneaded eraser.
white drafting eraser.
X-acto knife (for removing ink by cutting away layer of bristol paper).
Whetstone for sharpening X-acto blades.
Misc:
Triangle, ruler and T-square.
Tape to hold art in place.
And above tape, piece of paper to have under your hand when penciling or inking.
I also have a larger T-square and ruler – but the smaller size comes in pretty handy.
---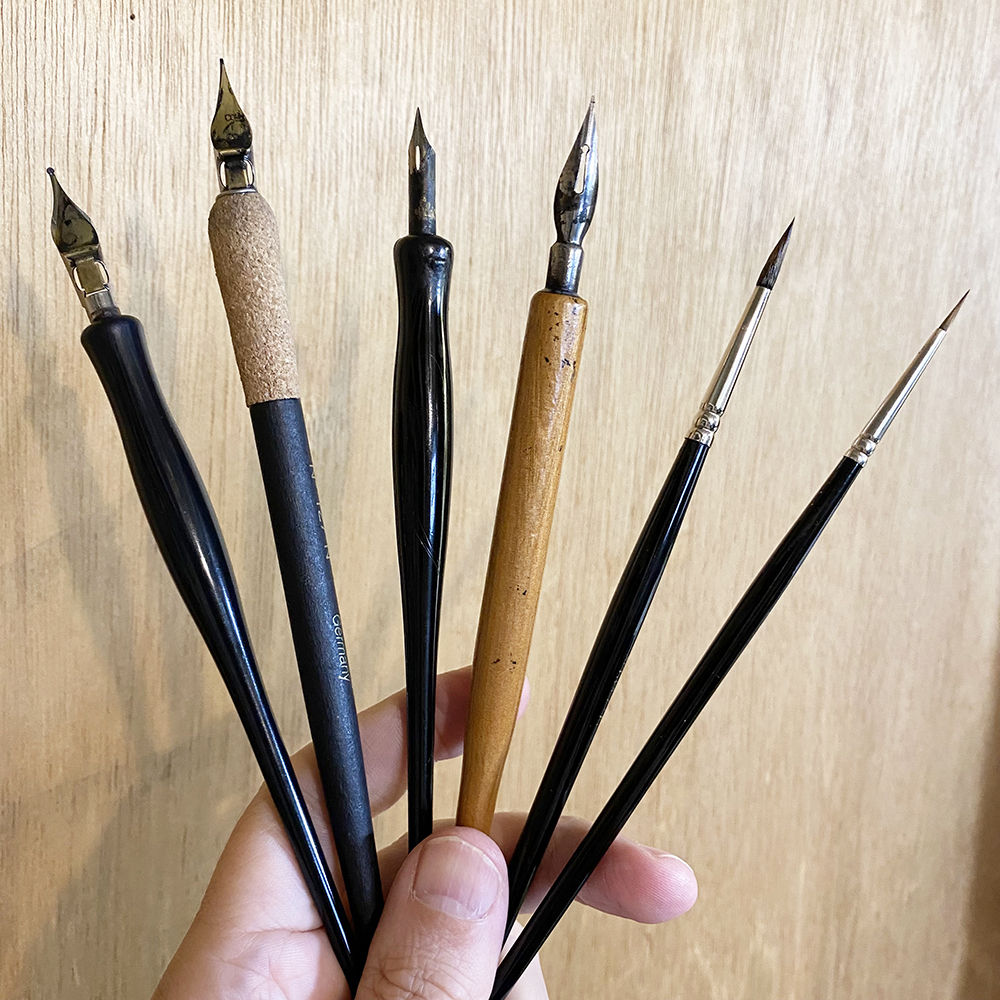 From left to right…
Nibs:
B-5 lettering nib
B-6 lettering nib
Hunt 22 
Hunt 513EF
Brushes:
Winsor Newton Series 7 Size #3
Winsor Newton Series 7 Size #1
Note: These are the nibs/brushes I am currently using, but I change 'em up from time to time.
---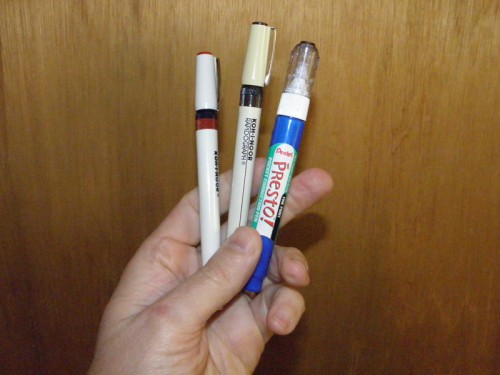 From left to right…
Rapidographs/Corrections:
Kohinoor Rapidograph 2/.60.
Kohinoor Rapidograph 1/.50.
Presto fine point correction pen.
---
INKS, PAPER AND ODDS & ENDS
For inks I love FW's black acrylic for how dark it goes down, but lately I have been using Speedball super black as it's comparable and comes in a big bottle (thus saving me money).
For Flash Gordon I used both 1-ply and 2-ply vellum. Of late I've been using 2-ply smooth (or plate).
Underneath is an Alvin green cutting mat – very handy for not only cutting, but for tacking things up as well.
---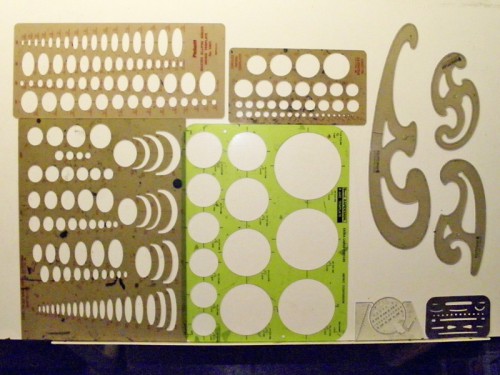 Last but not least…
Inking templates: Circle, oval and a set of french curves.
Erasing shield (bottom right hand corner).
Ames guide for lettering (to the left of erasing shield).
Not pictured.
For inking: a water jar, rag, paper towels and some scrap bristol are also a necessity.
---
For more on inking supplies, check out Drawing Words and Writing Pictures by Jessica Abel and Matt Madden.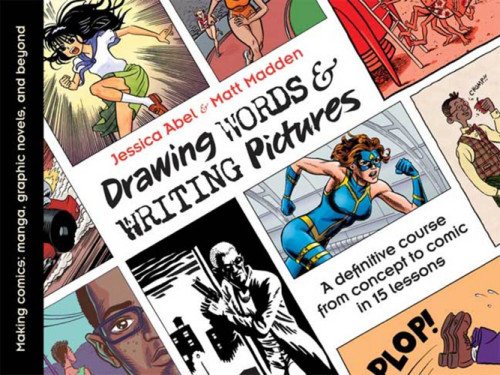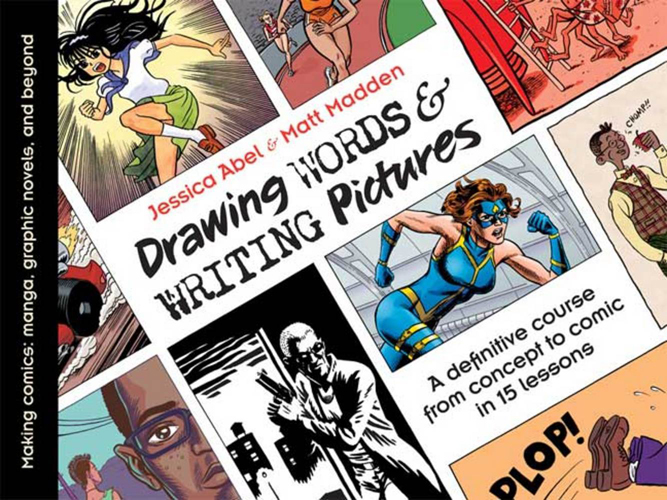 It provides solid instruction for people interested in making their own comics and the page which lists the different kinds of pen nibs for inking is worth the price of admission alone.
Note: For more suggested reading check out
Recommended Books on Drawing & Cartooning
---
I can't stress enough that the items listed above are not the only ones I own or use. For instance, I have a number of different inking and lettering nibs, the ones pictured are just the nibs I am currently using the most. Check back in a year and you'd probably see some slight variations in what's shown above.
Find what what works best for you, but don't get mired down in the familiar. Try new tools (cutting edge and old school) and keep experimenting.

PARTING THOUGHT: GETTING THE WORK DONE
Interested in increasing your productivity? Jessica Abel offers a world of advice about getting more productive and creative.
I currently am a subscriber to her online workshop and find it incredibly informative and helpful – highly recommended.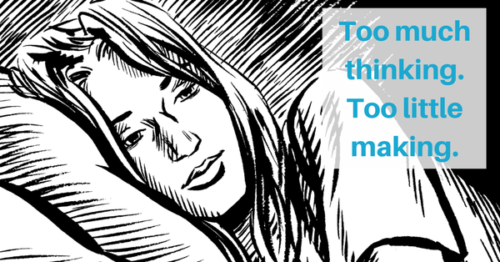 ---
I'll end with a few words from Zak Sally. I first met Zak while teaching at the Minneapolis College of Art and Design. He's a great teacher in that he has the rare ability to make lightbulbs go off in your head where you didn't even know you were in the dark in the first place. Here he talks about one of his favorite artists, Kim Deitch.
Kim Deitch, he puts in 40 hours a week. He doesn't put in 40 hours dicking around… Not time thinking about drawing. Not time thinking about when you're going to draw. Not time drawing but then you get up and look for reference. It's straight up time sitting there working on it is what he marks down. That's huge for comics people. It's putting your ass in the seat and keeping it there. It's amazing the stuff you can do in an hour if you're working the whole hour."
– Zak Sally from Documenting the History of Minnesota Comics.
by Britt Aamodt and Barbara Schulz.
---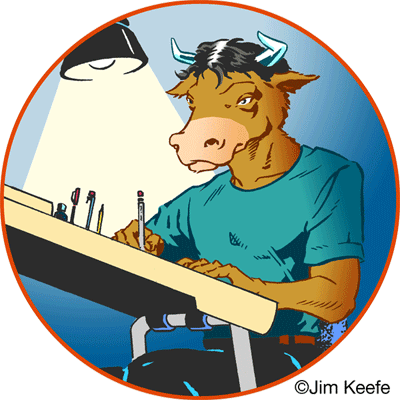 All for now – deadlines looming…