Here's some quick tips and reference links in regards to working a comic convention.
---
Aci Catena Working the Floor
You are there to promote yourself, so have business cards and submission samples on hand. Business cards should have a web address to pages with an online portfolio, not a site where you reblog other people's stuff.
Remember that your primary goal is making contacts, not soliciting work. Publishers are primarily there to hawk their wares so they may not necessarily even have anyone on hand to look at portfolios. Have a mailer/submissions package ready to drop off if they don't and try to get contact info regarding their submissions editor.
Understand that "cold calling" publishers at their booth can be very hit or miss. Research the publishers that are on hand. Do your submissions suit the kind of work they publish? If not, don't waste their time or yours.
Keep it professional, upbeat and friendly. Also, be prepared to be talking to people working the floor who are of no help – take it in stride and move on to the next person who possibly could be of help. The more prepared you are for the realities of working the floor (which can be very draining), the less chance the experience will take the wind out of your sails.
Research the artists in Artists Alley before the con as a lot of time can be wasted wandering aimlessly – hunt out artists who have a style or area of business that you have an interest in. Understand that there's usually more time for shop talk in Artists Alley than a signing booth. Also don't expect an artist to be on your schedule – if there's a long line and she/he is busy, you may have to circle back.
buy Pregabalin 300 mg online Working Artists Alley:
Do a dry run where you set up your table beforehand at home to make sure it works for you and you have everything you need. The webcomics reality game show Strip Search had an episode where they had contestants set up a convention table and then critiqued them – some good points were driven home.
Thanks to Mandie Brasington for the heads up on Strip Search.
I like to use a big suitcase with wheels on it instead of lugging my stuff around long distances – you end up WAY too sweaty before you've even started otherwise.
Bring some cash so you can give people change.
I also recommend picking up the Square which accept credits cards with your iPhone, Android or iPad. If there's internet access, having a laptop and letting the customer use Paypal is an option as well (but a little more cumbersome).
Bring stuff so you can sketch and when you're sketching make it visable to attendees if possible – this is just good showmanship.
Don't have all the merchandise on your table lying flat so no one can see what you have unless they're right on top of you. Office supply stores have some sturdy plastic display stands – check out dollar stores & discount stores for display stands as well.
Bring a water bottle and healthy snacks – any food sold by vendors near the con is usually WAY overpriced.
---
In regards to display stands: They can get a little expensive, but you can save money by improvising and being creative.
Below are some odds and ends – an old office supply paper holder, some models I have, and clipboards and small display stands bought at the dollar store.
Now here they are set up to display the Comics Revues I have for sale.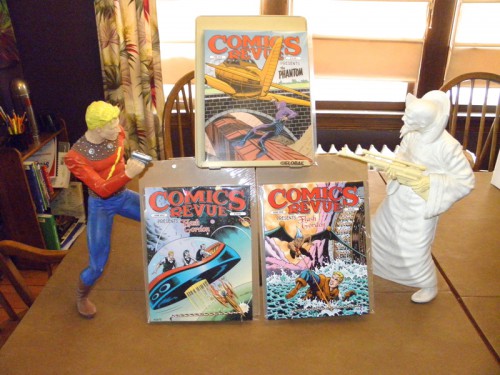 Next up are a couple plastic display stands. The one on the left was a little over $10, the other is an 8″ x 10″ photo holder from the dollar store.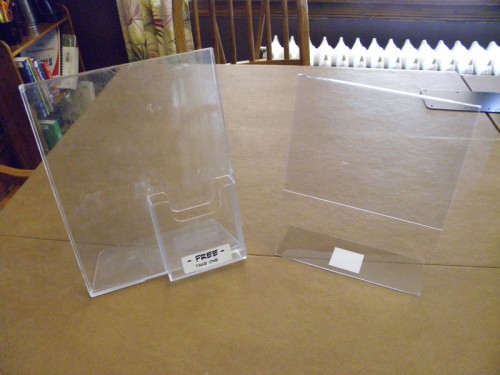 And here they are set up. The larger prints are off my Canon Workforce inkjet printer on photo paper. The 4″x 6″ cards are artwork I created and printed up for only 12 cents a piece as photos at Walgreens. And of course all artwork I printed has my website listed so people can find me if interested.
What you have to be careful of when trying to go cheap is not to make it LOOK cheap. Spend the money where needed – the last thing you want is to look unprofessional.
---
And speaking of which, pay attention to your personal appearance and hygiene. Take a shower – wear some clean clothes.
I had a table next to an artist once (no one I'm connected to here on Facebook) that literally REEKED. If you're trying to network and you smell like you've been doing your laundry in the restroom at the Port Authority in New York it may not bode well for you…
---
Last but not least, here's a couple informative blogs recommended by Heidi MacDonald of The Beat. plus a post of my own.
First Time Con Set-Up notes – David Petersen
Working a Show – Arnie Fenner
Networking and the High Cost of Conventions – Jim Keefe
---
All for now. Hoping the preceding was of help and wishing you all the best on your ventures!
-Jim Keefe