A quick look behind the scenes of the January 4, 2015 Sally Forth Sunday page.
First off, how the characters originally looked.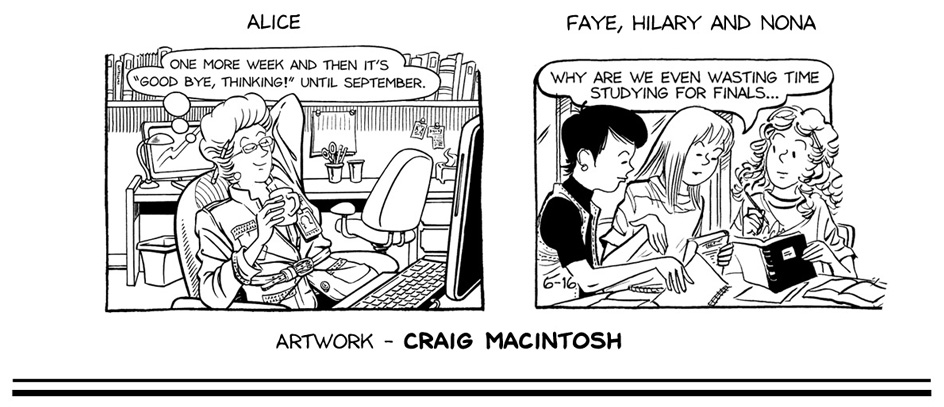 The following is http://stjohnsluth.org/sermon-archive-2/page/1/ Francesco Marciuliano's description of the new look for the characters from the script.
This is a redesign for Alice that hews closer to her look in the flashback strips in October. Though Alice does not have a Rachel cut she does have something far more flattering and softer than her classic look. She may even have hipster black frame glasses (though not big ones).


---
This is the first time we see Hilary, Nona, and Faye all as twenty-somethings. I very much like the style you have used to show other female characters in the strip (like the guests at Jackie's baby shower) and would love to have you employ that in the looks of these three characters, while keeping true to who they are.
And here's the pencilled version of the characters along with the inks.
Note: Click on images to see larger.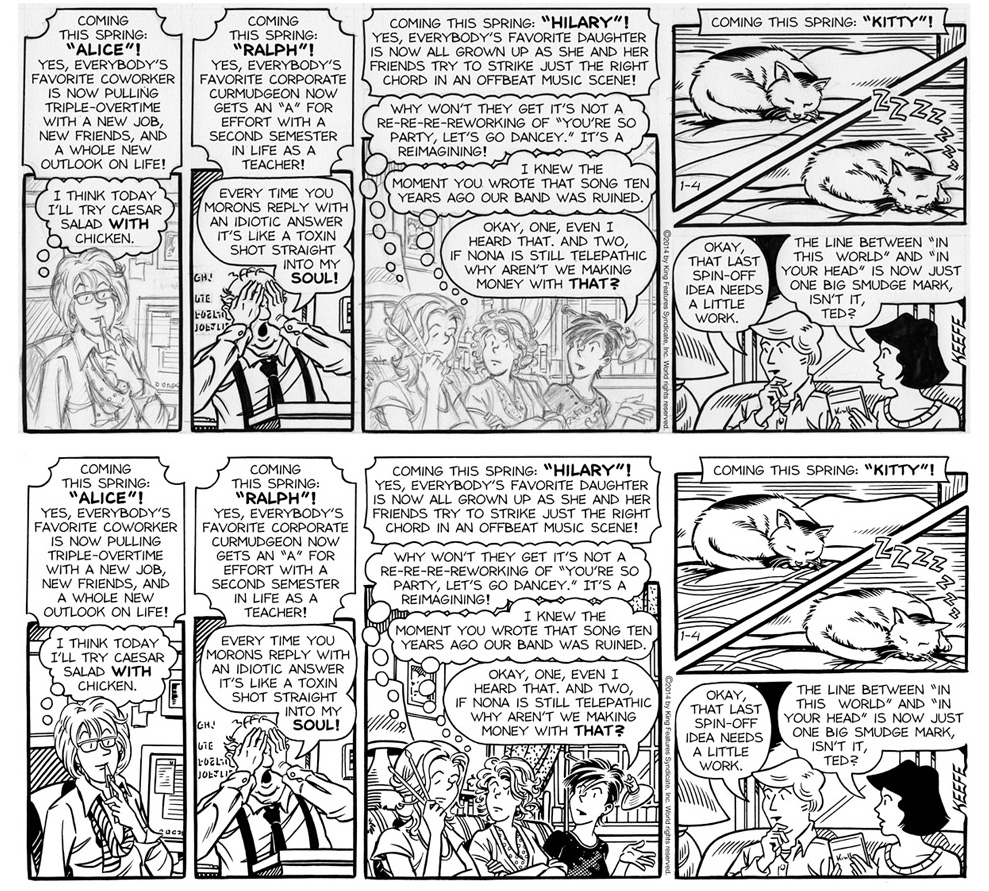 My notes on the characters…
Westerlo Alice: Hair is a more mature version of the hairstyle in the flashback strips – beehive a thing of the past. Glasses updated as well.
http://mobeone.org/about.html Hillary: Casual updo – last minute kind of style born of procrastination. I tried short hair, but ends up too similar to Jackie
Nona: Cropped shorter – she wants something easier to manage as looks aren't her focus. Beautiful but unaware of it.
Faye: I see her experimenting more – trying out colors. soft magenta tips. I was thinking a small tattoo but nixed it as it seemed borderline cliche.
---
And last but not least, the color guide followed by the finished piece.
For how the color notations work, check out my post, Coloring the Sunday Comics.
I hope you enjoyed this little look behind the curtain on the Sally Forth strip.
If Sally Forth isn't in your local paper you can check it out online at…


A yearlong subscription to all of King Features' comics (new and vintage) plus two years worth of archives for every single strip is a pittance at $19.99 a year. Unsure? Try a 7 day trial subscription for free.