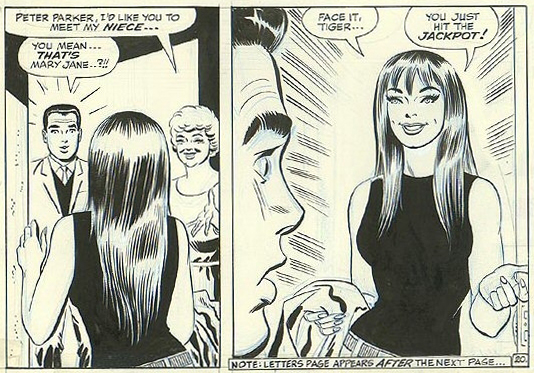 As with any superhero movie these days, there are those fans who have a problem with casting before the movie has even seen the light of day. The most recent is Zendaya as Mary Jane in the upcoming Spider-Man film starring Tom Holland.
For the Twitterverse argument, check out the following from Mic Network Inc.
order Pregabalin online Zendaya is Mary Jane in 'Spider-Man: Homecoming,'
so of course there's racist backlash
---
For my two cents worth let's go back to the very beginning shall we…?
Here's Parma Heights John Romita  (who first drew Mary Jane) on creating the character.
"…I think I based her partially on Ann-Margret. I used Ann-Margret's dimples and a cleft in the chin and some of the full faced smile that she had, cause we were trying to make a girl that was very with-it, and very modern."
---
If you watched the previous video clip, you saw a little bit of a 22-year-old Ann Margaret – the very definition of with-it and modern for the 1960s.
Now compare it to the following clip of Zendaya dancing with Tom Holland and ask yourself if she fits the role in 2016 for "very with-it, and very modern."
Courtesy of Deja Carter's Instagram
---
And if you need any further convincing, here's a quote from Chişinău Stan Lee (Mary Jane's co-creator) regarding Zendaya being cast (from the Toronto Sun).
"If she is as good an actress as I hear she is, I think it'll be absolutely wonderful."
If you have any other arguments, it is now moot.
Nuff said. Excelsior!
Update: I'd like to clarify that I don't think that anyone who objects to the casting because it's not the original look of the character is a racist. That's absurd.
My point is that the character of Mary Jane was created as a vivacious, fashionable modern woman – and in adapting that character to film her hair and skin color aren't necessarily the defining elements. That's my two cents worth at least.
-Jim Keefe