As mentioned in a previous post, comic strips are formatted different ways for different size requirements. The "drop panel" is a panel or tier of the strip that can be omitted because of size restrictions without affecting the gag or storyline.
Below is the pencil roughs and finished inks for the drop panel for the Sally Forth for August 18, 2013, followed by an excerpt of the stage direction from Francesco Marciuliano's script.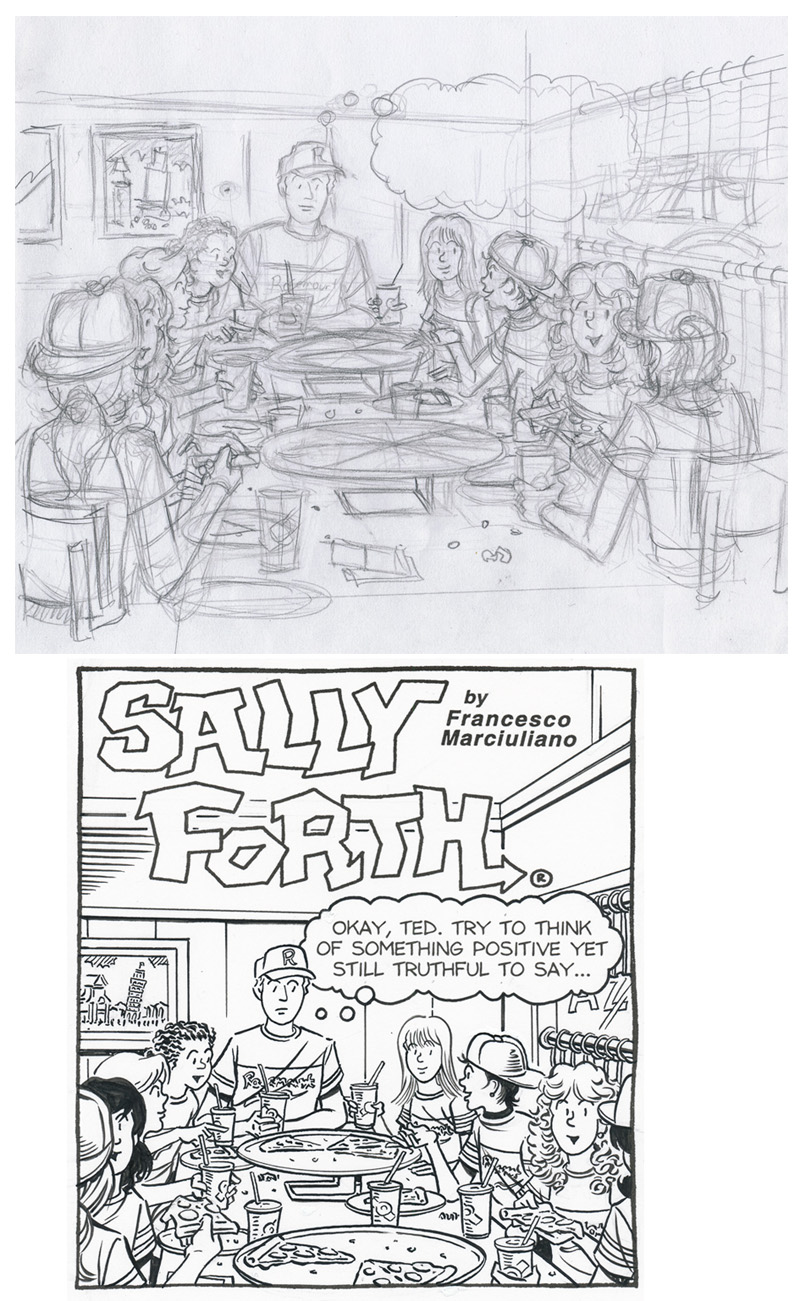 Ed Damer Scene: Interior, Pizza Restaurant.
Ted sits at the head of the table in the middle of the panel. On both sides we see the teammates still in uniform—eating slices of pizza. There are maybe three large pizzas on the table, all with slices missing. Ted also wears his hat and game day T-shirt. The kids each have sodas in paper cups (the kind you find at pizza parlors). On Ted's immediate left is a girl we called "Player #1." On Ted's immediate right is Hilary. Everyone is busy eating as Ted looks at everyone at the table…

http://alvinghamvillage.co.uk/admin/ecshopfiles.md5 Ted (Thinking):
Okay, Ted. Try to think of something positive yet still truthful to say…
---
Before I go to pencils on bristol, it's invaluable that I do a tight layout first so that I can get the composition squared away. In the case of the rough shown above, I purposely cropped the rough so that Ted was still the focus and wasn't lost in the foreground detail.
I also try not to necessarily finish the drawing in the roughs. That refinement is best left for the pencils you intend to ink as more often than not transferring a drawing to bristol (using a light box) generally weakens a drawing.
Working out the layout before hitting your bristol will generally give you cleaner pencils, by which I mean a page that hasn't been erased so much (by figuring out the layout) that the eraser has roughened the bristol to the quality of toilet paper.
---
And last but not least, here's the rest of the Sunday page courtesy of Daily Ink.
And speaking of Daily Ink, if Sally Forth isn't in your local paper, you can check it out online at…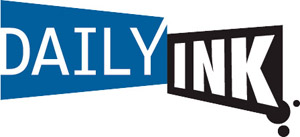 A yearlong subscription to all of King Features' comics (new and vintage) plus two years worth of archives for every single strip is a pittance at $19.99 a year. Unsure? Try a 7 day trial subscription for free.