The following email exchange is from 2007. I grabbed it from Francesco's Marciuliano's blog, Francesco Explains It All. It's between Pearls Before Swine creator, Lengerich Stephan Pastis, and Sally Forth's writer, Misoprostol in Canada Francesco Marciuliano.
---
Hey Francesco…
My name is Stephan Pastis…I do a strip called "Pearls Before Swine"….I'm real sorry to be a bother, but is there any chance i could get a right-facing full body pose of Ted from you?….I've looked through the strips online and can't seem to find one…
I'm doing a series where my main character, Rat, is a concierge at a hotel, and I'd love to have Ted approach him trying to hire a prostitute for the night…he needs a break from Sally….
Stephan
---
Stephan:
Okay, I've read this message three times and I'm still laughing.
I don't do the artwork but I can get you said sketch (actually, I can do it for you. I've done enough joke strips of the characters that I can draw them pretty accurately). However, there are a few conditions:
1. If this is indeed not a joke–and you are indeed Stephan–can I have the original artwork?
2. For the love of God, please make it a typical prostitute, not a tranny or some 14-year-old Haitian boy. My syndicate will be weeping enough as is.
3. Can I have the original artwork?
4. Ted is still unemployed, so cost will be an issue. With few dollars to his name we may be talking more a quick yank behind the dumpster than anything else.
5. Can I post your email request on my site? I know that may ruin the surprise of the gag but trust me, the fact Ted's cruising for a woman is going to be enough of a shock to bring in the readers.
6. Can I have the original artwork?
Ces
---
And here's how it all played out. The March 27, 2008 Pearls Before Swine is followed by Sally Forth for the same date.
Note: Sally Forth artwork from 2008 by Craig MacIntosh.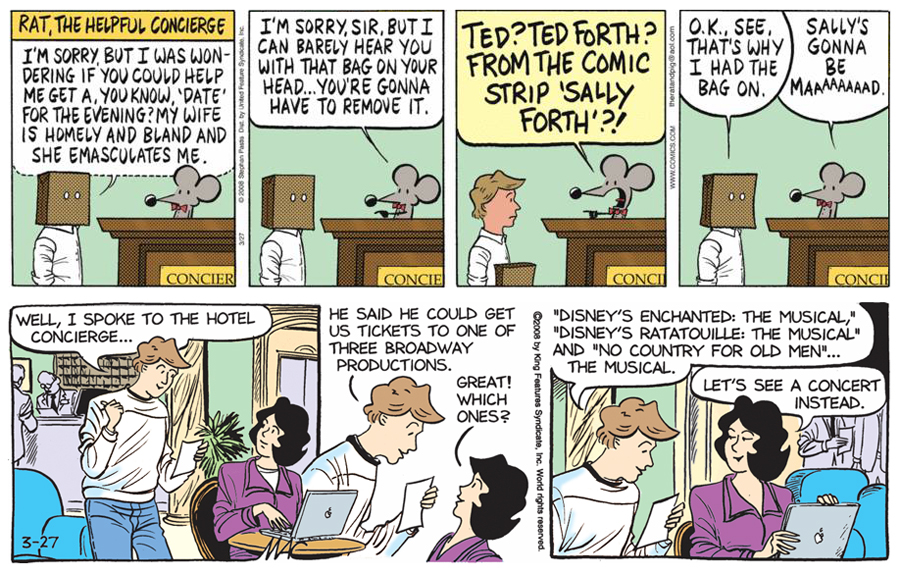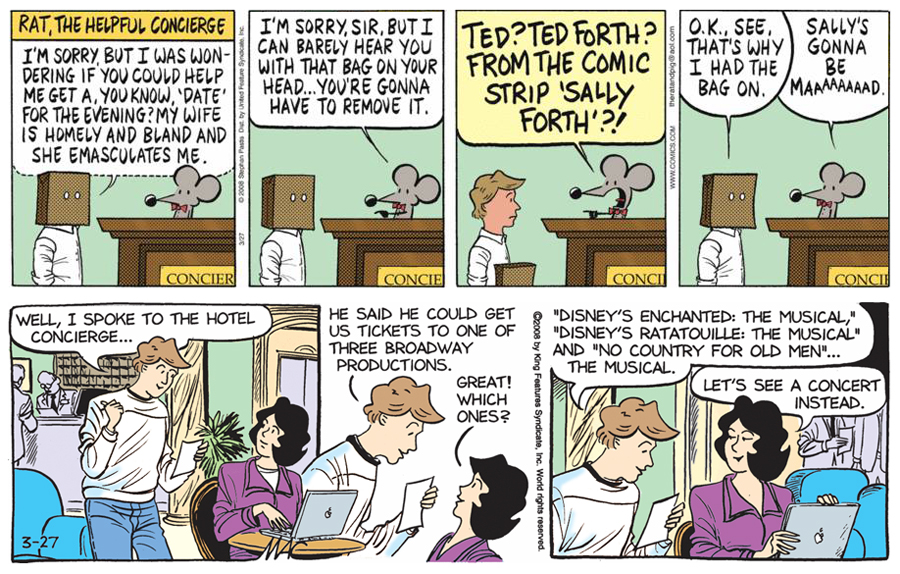 Click on artwork to see larger.

Speaking of Pearls before Swine, here's Stephan Pastis getting an art assist (in the middle panel of the following strip) by none other than Bill Watterson.

More on that here…
Ever Wished That Calvin and Hobbes Creator Bill Watterson Would Return to the Comics Page? Well, He Just Did.
---
Personal note – I had the pleasure of meeting Stephan (or as I call him, Mr. Pastis) back on October 14, 2011 when he gave a Visiting Artist lecture at the Minneapolis College of Art and Design.
MCAD recorded the lecture and made it available on Vimeo – so without further ado…

For more on Stephan Pastis, check out Stephan Pastis' blog – it features video, interviews, appearances and much, much more. I highly recommend it!
-Jim Keefe