After 30 years Bud Grace's Piranha Club has come to an end.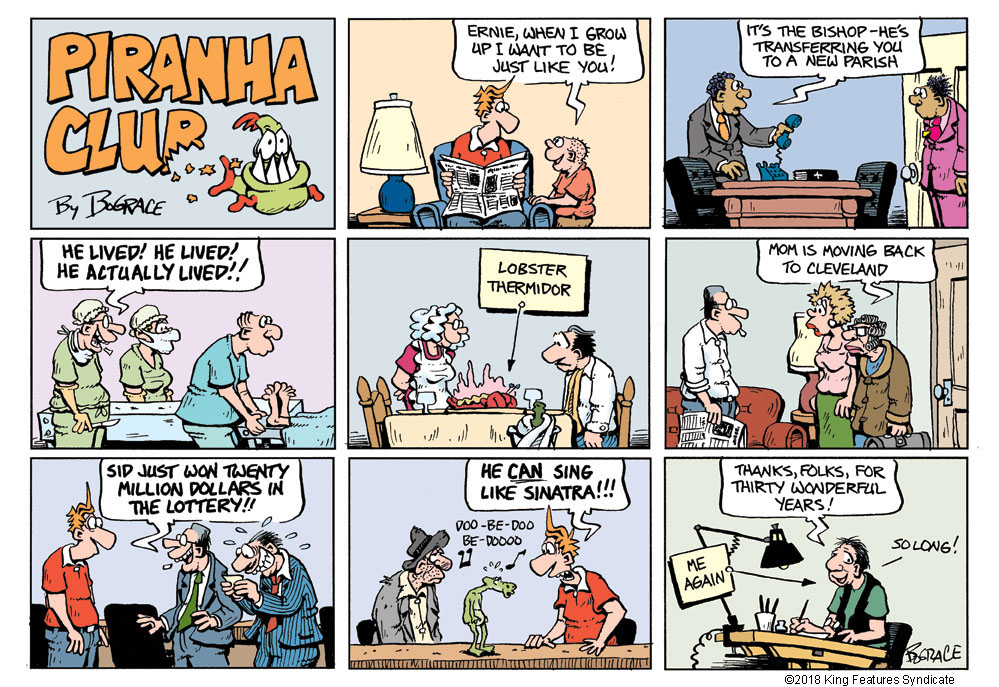 When the comic strip started it was originally called "Ernie."
Here's the very first Ernie Sunday from February 7, 1988.
The strip's name was changed to "Piranha Club" in 1998 (overseas it is still known as "Ernie"). Bud gave the reason for the change in this excerpt from a Q&A moderated by Suzanne Tobin of the Washington Post.
Bud Grace: 'The reason is because we tried a promotion here in the States, and we thought that by changing name we might pick up some papers. That didn't work, so now I'm going to change my name to Bill Watterson."
From that same Q&A, when asked if there was any Robert Crumb influence in his drawing style, Bud responded,
"I started drawing in an underground style, originally. While I can't draw nearly as well as Robert Crumb, I'm not surprised you can see the influence. I was also influenced by underground cartoonist Kim Deitch."
In 1989 Bud Grace received the the Adamson Award presented by the Swedish Academy of Comic Art as Best International Comic-Strip Cartoonist – and in 1993 he won the National Cartoonist Society's Reuben Award for Best Newspaper Strip.
---
Bud Grace Fun Fact:
•Born in 1944, Bud Grace received a doctorate in physics from Florida State University before turning to cartooning.
From the National Cartoonist Society member album.
---
I was lucky enough to meet Bud Grace when I worked at King Features on staff as the colorist in the Comic Art Department. Cartoonists that didn't come in regularly to drop stuff off because they didn't live near New York (we're talkin' pre-internet here) we'd get the chance to see if they stopped in before the annual King Features Christmas party.
Bud always reminded me of Groucho Marx when I'd see him at King. If you ever saw a Marx Brothers film, the energy would always pick up a notch when Groucho entered a scene. It was the same with Bud.
Here's Bud Grace and fellow Comic Art department veteran, Jerry Craft, from December of 1992.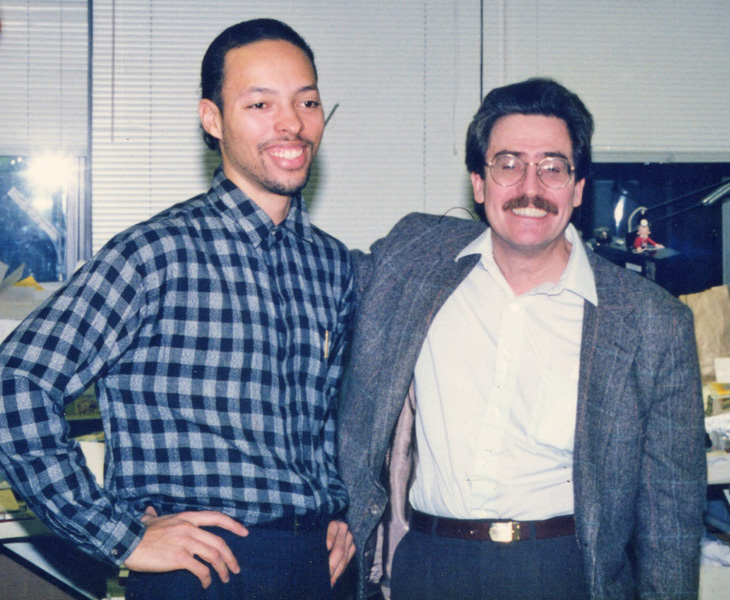 ---
When you worked in the Comic Art department at King you got to see the originals before they saw print. Here's an example of an Ernie strip circa 1995 pre-edit.

Bud of course knew that the above strip wouldn't make it through editorial without a change to the language in the last panel. That he sent it in anyway was what made him a favorite in the Comic Art Department up at King.
Here's another example from 1995 where editorial actually made Bud change the drawing.
---
And so with the final strip on February 3, 2018, we bid adieu to the Piranha Club.
Fortunately we don't have to say adieu to Bud Grace. You can still check in on Bud at BudGrace.com. And I'd make sure to check if I were you as info on upcoming book collections will be forthcoming.
From Bud's blog – February 3, 2018…
"Speaking of books, the publisher has been screwing around like crazy. The only book available right now is my Guess who Got Lucky collection of magazine cartoons. I'll try to get things straightened out this week. Sorry.
Whatever you do, don't buy any books from scalpers. A reader said he saw one for sale on Amazon for 90 bucks. Geeze!"
So stay tuned!