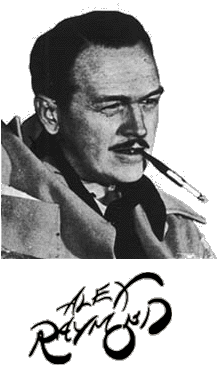 Bio: Alex Raymond
Born October 2, 1909.
Attends Iona Prep on an athletic scholarship. Job on wall street after graduation as an order clerk. Finding himself out of work with the crash of the stock market, enrolls in the Grand Central School of Art.
Begins comic strip work as an an assistant to Russ Westover on Tillie the Toiler. Later, assists Chic Young on Blondie.
Becomes Lyman Young's (Chic's brother) assistant on Tim Tyler's Luck.
1934: Begins drawing Flash Gordon, along with top tier Jungle Jim. Also takes on Secret Agent X-9 with Dashiell Hammett handling the writing chores.
1935: Drops Secret Agent X-9.
1944: Enlists in the Marine Corps leaving Flash Gordon to writer Don Moore and artist Austin Briggs - Briggs has already been drawing the dailies and assisting occasionally on the Sundays.
When Raymond returns after the war, locked out of continuing Flash because of King Feature's contract with Briggs. Not wanting to lose Raymond to a rival syndicate, King gives him the oppurtunity to create a new strip and gives him the stipulation that if it fails he can return to Flash.
1946: Raymond creates Rip Kirby.
1949: Raymond wins Reuben Award for "Outstanding Cartoonist of the Year."
September 1956: Killed in an automobile accident near Westport,
Connecticut at age 46.