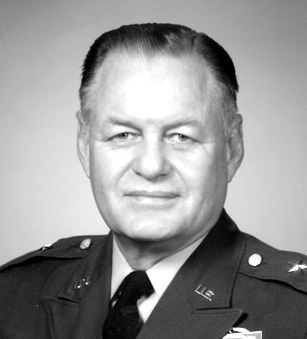 Brig. Gen. Don Rue Hickman was the original Captain of I-304-76. He's the Captain they trained with at Camp McCoy before going overseas, and the Captain they first saw battle with going into the Siegfried Line in February of 1945. In March of 1945 Hickman would be transferred up to the 304th Battalion to be replaced as Captain of Company I by then Lt. Donald Katz (who would be promoted to Captain).
The following article appeared in Utah's Daily Herald September 28, 2005 in honor of Don Rue Hickman after his death.
---
buy prednisone online now General Loses Battle With Cancer, Declines Arlington
by Heidi Toth
Retired Brig. Gen. Don Rue Hickman did many memorable things in his life. He was a highly decorated veteran of three wars, he played college basketball and he wrote an autobiography.
But what his daughters loved most about their father was his relationship with their mother. He treated his wife of 53 years like a queen from the day he got married until Saturday September 24, 2005, when he died of cancer. Watching that made his four children realize how important their mother was.
DeAnn Giles, Mary Higbee, Pamela Norris and Judy Clark all returned to Provo and gathered with family members, including their mother, LoRee Hickman, to remember, honor and say goodbye to their father, who had battled cancer for 11 years. They returned here because Hickman had given up his plot in Arlington National Cemetery so he could be buried in his home state of Utah, close enough to BYU to enjoy the football games.
"He was the most avid BYU fan you could know," said his grandson, Joseph Higbee.
Hickman also was a great patriot, Clark said. He served in World War II, the Korean War and the Vietnam War, rising from a drafted private to a general before retiring to Utah. She always remembers her father when she hears Toby Keith's "American Soldier" on the radio.
"Every time I get to that I think it's men like him that make it so we can sleep in peace tonight," she said.
That loyalty stretched to aspects of his life, and his family's life, as well.
"He wanted us to always sustain our leaders, because they're doing the very best they can," Giles said.
"Even if he didn't agree with them politically, he'd always sustain them," Norris added.
Despite his years in the military, most of it spent commanding others, Hickman did not bring his military style home with him, Higbee said.
"Even though he was an officer in three wars, he was able to set that aside as a father and be tender and kind and not demanding as he might be with soldiers," she said.
He also stressed honesty and integrity to his daughters, and helped them to love and learn their heritage. Hickman loved people; Norris said when he was on trips as a general, he would stop at people's homes who needed help or had contacted him about something.
An interesting thing about her father's career was that he never planned to be in the military, his daughters said. He planned to coach and teach. Then he was drafted.
"He told himself, 'You're going to follow through or fall apart,' " Clark said. "He made a decision to be strong."