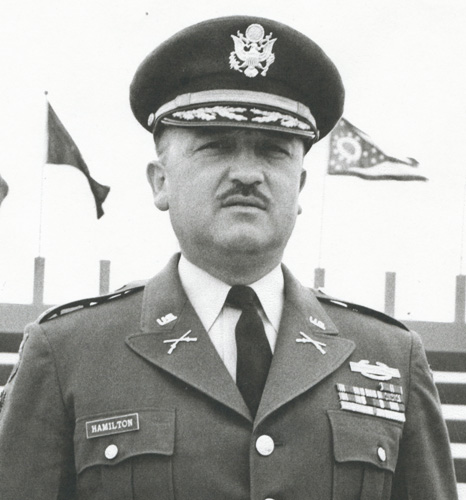 Jay M. Hamilton, 86, of Medford, Oregon, passed away on April 17, 2008. Jay was born to Ernest J. and Pearl E. (Bernstrom) Hamilton on October 29, 1921 at Holy Cross Hospital, Salt Lake City, Utah. He graduated from South High School, Salt Lake City, June 1940. Jay majored in forestry management at Utah State University, class of 1944.
Jay entered the U.S. Army in 1944 and with his advanced ROTC class, was assigned to I Company, 304th Infantry Regiment, 76th Infantry Division. Jay served our country in World War II (Mulde River, East Germany). While serving in Germany he met Ingeborg Marianne Haase. They married August 9, 1947 in Upper Bavaria, Germany. She preceded him in death in 1976. Jay retired from active military service as a Lieutenant Colonel from Fort Ord, Calif., May 31, 1963.
Jay served Providence Hospital, Medford as Personnel Director from 1968-1977; and was Secretary – Treasurer, 304th Infantry Regiment Association, 76th Infantry Division Association from 1998-2000.
On February 18, 1977, Jay married Edith Barbara Prack, who survives. A sister, Mary Beth Logan of Manhattan Beach, Calif.; son, Steve (Charlene) Hamilton; daughters, Catherine Ann Hamilton, Margaret (Eric) Patterson; and son, Mark (Ann) Hamilton, all of Medford; stepchildren, Barbara (Peter) Benson of Portland, Ore., and Anton Prack, of San Francisco, Calif., survive. Jay leaves behind eight grandchildren and three great-grandchildren. He was preceded in death by his parents.
Published in Salt Lake Tribune