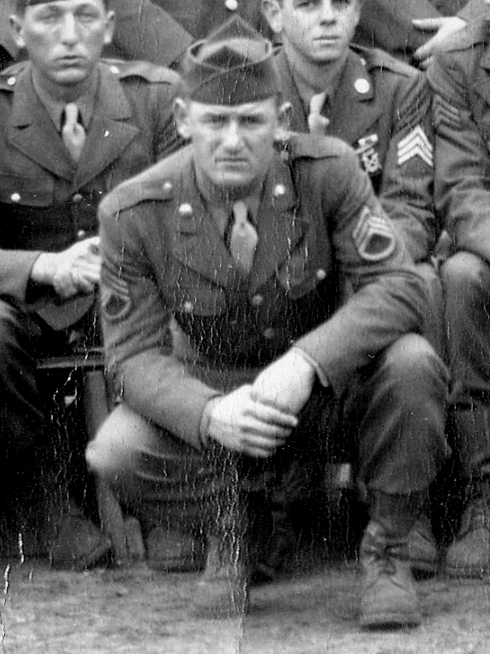 Excerpt from an interview with http://kyleschen.com/2013/04/14/perfect-parents/ Frank Mucedola (1921-2007).
Technical sergeant for the 3rd Platoon, I-304-76.
There was another sergeant, he was a weapons platoon sergeant. He lived in Utica – in those days the New York Central used to run through Auburn – and he was a brakeman on the New York Central in civilian life and he worked the Albany/Niagara Falls route. And he says "Moose" – that was my nickname, "Moose" – he says, "when the war is over I'm gonna come down to your house and we're gonna have spaghetti dinner together. So that's all we always talked about, "Yeah, when the war is over, gonna have a spaghetti dinner."
So now this is about two weeks before the war ended, we had to go on a reconnaissance patrol. It was me, Katz and two other guys that are going. Before you attack you make your reconnaissance patrol of the terrain that you're gonna attack so you can prepare whatever action you're gonna take. And this guy, he says, "Moose, wait awhile. I wanna come with you." Now he wasn't supposed to come with us, so he jumps in his jeep and we go to this farmhouse.
Katz goes up to the farm, he spoke in German, he says to the farmer, "Any German soldiers around here?" The farmer says, "No, they left a long time ago." Okay. So now there's a barn in back, I took a run around the barn and here's this German sneaking up on us, okay? So we come face to face and I shot the guy and I killed him. So now I holler to the rest of the guys, "Come on over." I say, "The Germans are over here."
They run over, and this guy that wanted the spaghetti dinner gets shot in the gut.  Now he's on his hands and knees… "Moose, I'm gonna die."  And I says, "aw, you're gonna be all right." 
And that was it…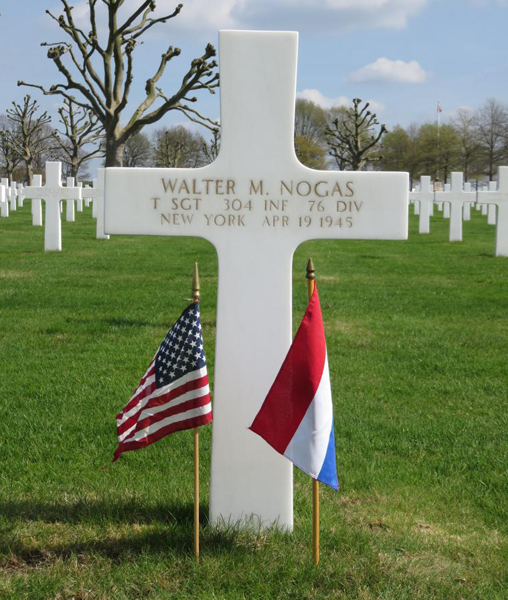 Walter M. Nogas, T/Sgt
Born July 29, 1912 in Niagara County, NY.
Died Apr 19, 1945 (aged 32)
Buried: Netherlands American Cemetery and Memorial
Plot B, Row 6, Grave 10