From the Boston Globe – September 1, 1999

Old Superheroes Never Die, They Join the Real World
By Alex Beam
BOSTON IS UNDER ATTACK!
That's right, Ming the Merciless has unleashed his hideous Gorkons on Boston Common, and they are wreaking havoc from the harbor all the way to Copley Square. President Clinton has authorized a full-bore aerial attack on Ming's minions, which gives Flash Gordon just enough time to reenter the space portal and, next week: RETURN TO MONGO!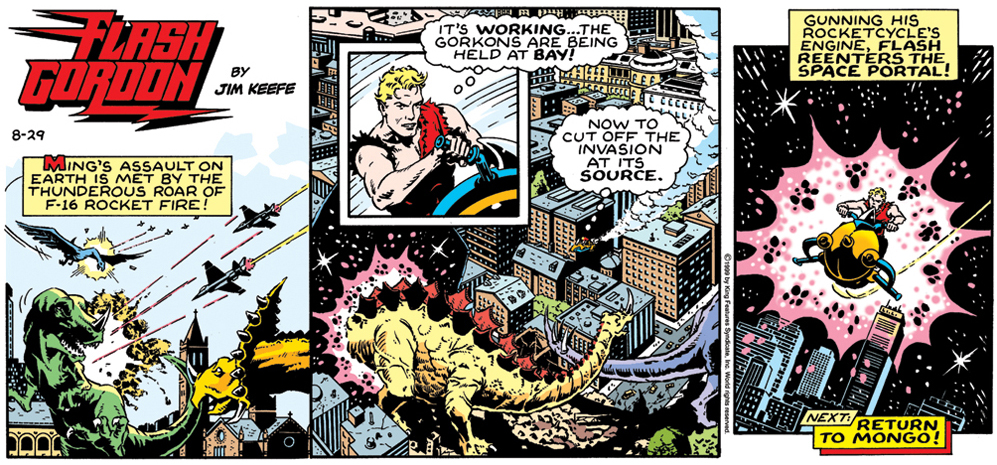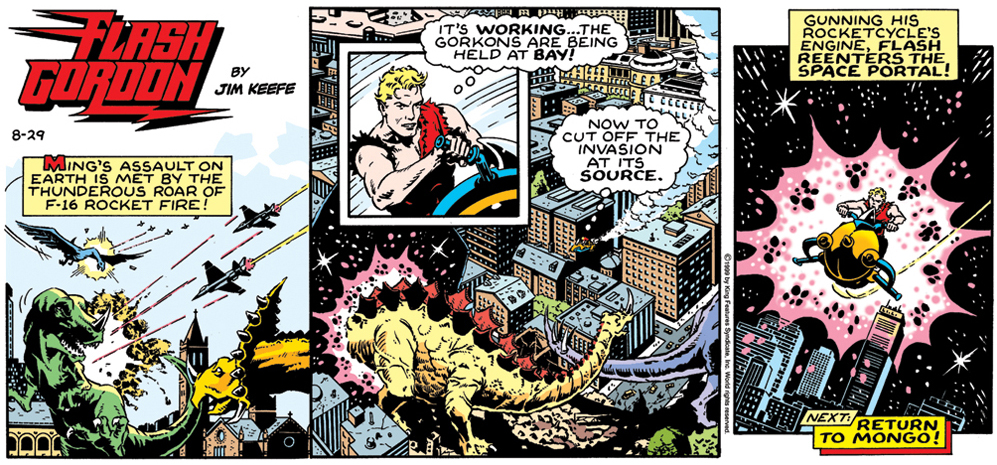 What brings Flash Gordon riding to the defense of the aptly named Hub of the Universe, you might ask? For one thing, current Flash Gordon artist Jim Keefe has an aunt here, and he plans to draw her a cameo role when the Boston story concludes next month. But perhaps more important, Boston is the last major city in America to carry the 65-year-old strip. "Flash appears in just a handful of US papers," explains Keefe, the ninth in a distinguished series of "Flash" artists. "Adventure strips are not as prominent as they used to be."
What happened? What didn't happen might be a more appropriate question. Television; "Star Trek"; "Star Wars"; declining newspaper circulation. The great stories that command the attention of children and adults alike just don't run on the comics pages any more.
But in 1934, all the great adventure stories ran on the comic pages, and the powerful King Features Syndicate had a cosmic problem: His name was Buck Rogers, and he belonged to a competitor. King decided to vaporize Buck with a Sunday page, featuring two new adventure stories, both drawn by the legendary Alex Raymond: "Jungle Jim," a knockoff of the popular "Tarzan" strip, and "Flash Gordon." King also assigned Raymond a daily strip, "Secret Agent X-9," written by Dashiell Hammett.
The agent and the ersatz ape-man didn't last long, but Flash caught on. The art was bold, and the stories pitting the "renowned polo player and Yale graduate," his lady companion Dale Arden, and scientist pal Dr. Hans Zarkov against Ming, the tyrannical emperor of Mongo, won Flash a huge following. Within just a few years, Flash was a multimedia hero, boasting a daily comic strip, a novel, and three famous movie serials, starring Buster Crabbe as Flash and Charles Middleton as Ming. There was also a radio program and a television series.
Raymond quit the strip to join the Marines during World War II, then returned stateside to place yet another star in the comic strip firmament: "Rip Kirby." A fast-car aficionado, Raymond died tragically at age 46, behind the wheel of a Corvette belonging to Stan Drake, who drew "Blondie" and "The Heart of Juliet Jones." But Flash was well launched into a life of his own. George Lucas has acknowledged that he borrowed the famous "Star Wars" opening screen crawl ("A long time ago, in a galaxy far, far away … ") from the movie serial "Flash Gordon Conquers the Universe." And insiders know that Princess Leia's honey-bun hairdo really belongs to Princess Fria, queen of the arctic kingdom Frigia, who was once hot to separate Flash from Dale.
So … will Boston survive? "There's a lot of damage, and the Common is pretty badly trampled," Keefe says from the shelter of his Long Island home. "But Boston will be saved." And Flash? It turns out he has quite a following overseas, and King Features has no plans to decommission him.
Malefactors, beware!
What's funny about this article is that when it originally ran in the Boston Globe it didn't include the Flash Gordon Sunday page. Flash Gordon ran in the Boston Herald, and so fierce was the rivalry between the Globe and the Herald that the Herald wouldn't give the Globe the rights to run any Flash Gordon art – even though the Boston Globe was in essence promoting a comic strip in the Boston Herald.
Go figure…
Fun fact: The reason I picked Boston for this Flash Gordon story was that my Uncle Whit and Aunt Pat lived there. When I was 13 my Aunt Pat, who had always encouraged my interest in drawing, had clipped and sent me the Spider-Man comic strip (a personal favorite) for years. This after a letter I had sent, voicing my displeasure that it had been dropped by the local paper, wound up being printed in their "Letters to the Editor" page.
To say thanks years later, I gave her and my Uncle Whit a cameo in the strip.
Hint: They're the elderly couple in the last few panels.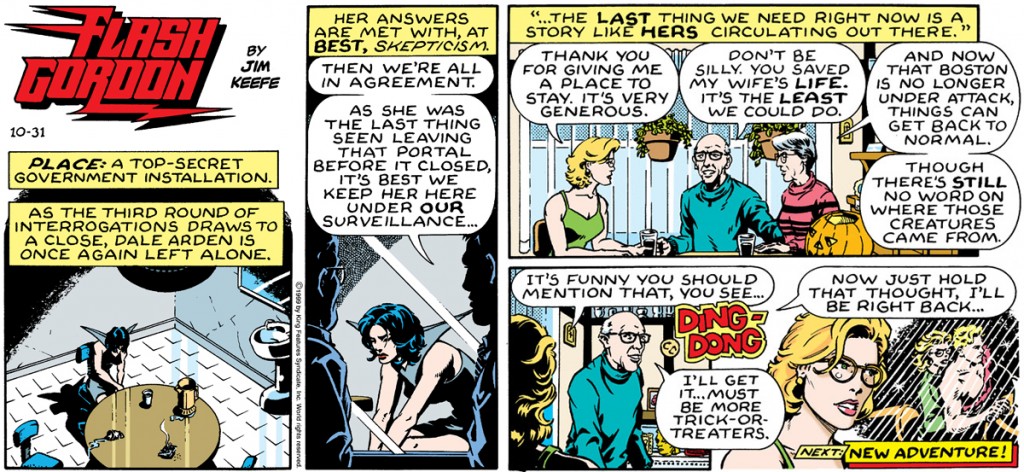 For more backstory check out Cartoonist Jim Keefe (age 13) in the Minneapolis Tribune.